CORONAVIRUS Update: Get the most up-to-date information on Associates in Gastroenterology's response to the coronavirus.
LEARN MORE
We accept most major insurances, 
including UPMC and Highmark!
Welcome to Associates in Gastroenterology!
Our Associates in Gastroenterology physicians share many years of experience and expertise in the field of gastroenterology. 

Our mission is to provide specialized care to our patients as well as provide a comfortable, professional environment in the office or at one of our four facilities that we utilize. 

The Associates in Gastroenterology remains an independent private practice. We accept all major insurances including both UPMC and Highmark.

We appreciate the opportunity to participate in the care of our valued patients and look forward to providing specialized care to our current and future patients.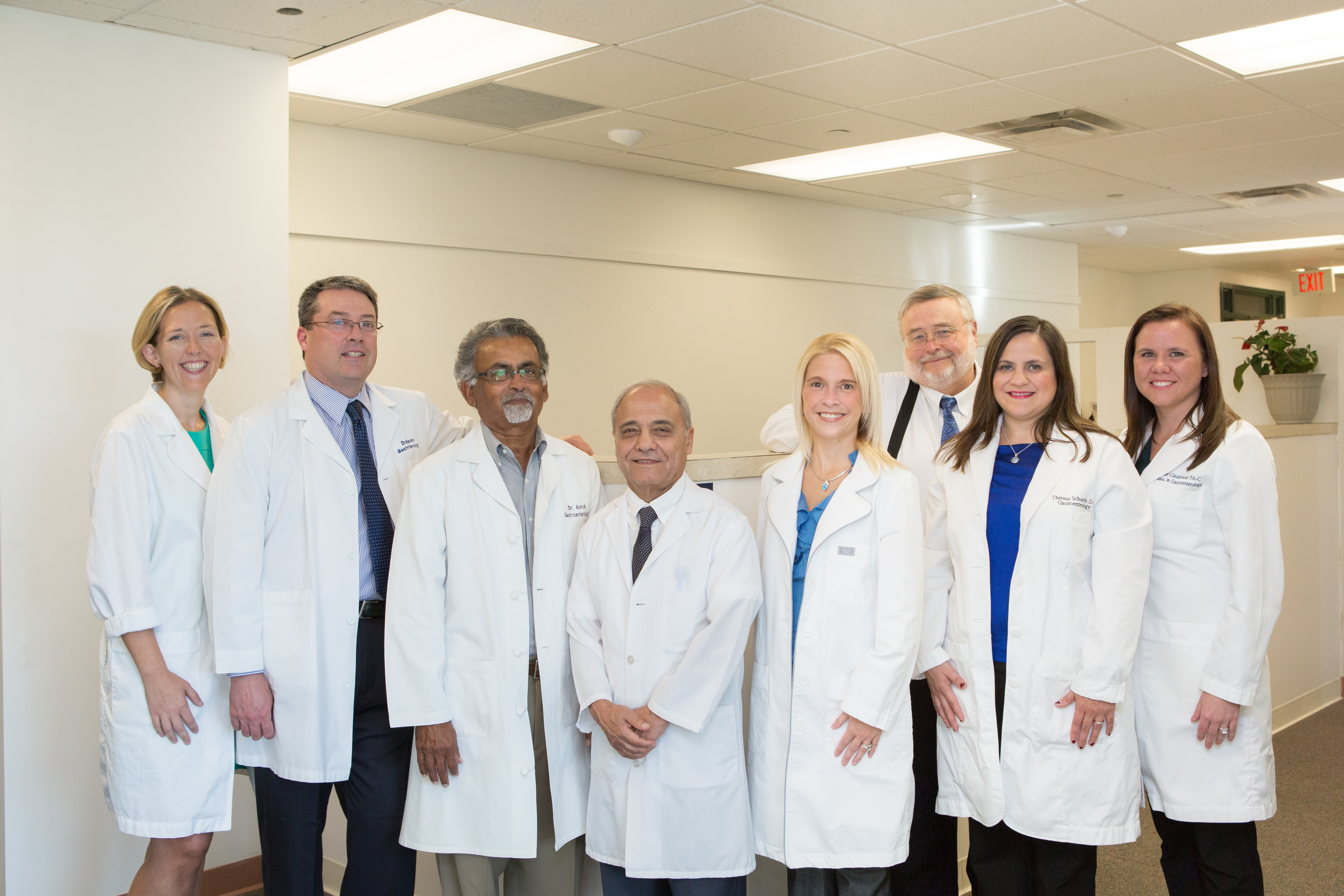 From left to right: Nicole M. Brown, PA-C; Michael L. Mlecko, MD; 
Puducheri S. Ashok, MD; Rahim Sotoodehfar, MD; Michelle S. Victain, DO; William W. Phillips, MD; Theresa M. Schuerle, DO; Halie Banas, PA-C 
Contact Information
Contact Information
Phone: (724) 933-1420 Call
Fax: (724) 933-1438
Accepted Insurances
Accepted Insurances
AARP Medicare Advantage HMO

AARP Medicare Advantage POS

AARP Medicare Advantage PPO

AARP Medicare Complete (HMO)

AARP MedicareComplete Choice (PPO)

AARP MedicareComplete Plus (HMO-POS)

AARP MedicareComplete SecureHorizons

AARP Personal Health Insurance Plan

AK Bronze Ded. Only HSA PD

AK Silver $5 Copay 2750 PD

AZ Aetna Leap - Banner Health Network

AZ Aetna Whole Health - Arizona Care Network

AZ Aetna Whole Health - Banner Health Network

AZ Banner Health Network Bronze $20 Copay PD

AZ Banner Health Network Bronze HSA PD

AZ Banner Health Network Catastrophic 100% PD

AZ Banner Health Network Gold $5 Copay PD

AZ Banner Health Network Silver $10 Copay PD

AZ Banner Health Network Silver $5 Copay 2750 PD

AZ Marketplace: Aetna Advantage 5750 PD

AZ Marketplace: Banner Health Network Bronze $20 Copay

AZ Marketplace: Banner Health Network Catastrophic 100%

AZ Marketplace: Banner Health Network Gold $5 Copay

AZ Marketplace: Banner Health Network Silver $10 Copay

AZ Marketplace: Banner Health Network Silver $5 Copay 2750

AZ Medicare Individual Arizona Value HMO Plan

Aetna Affordable Health Choices limited benefits insurance plan (SRC only)

Aetna Basic HMO (available in CA only)

Aetna Choice POS (Aetna HealthFund)

Aetna Choice POS (Open Access)

Aetna Choice POS II (Aetna HealthFund)

Aetna Choice POS II (Open Access)

Aetna Choice POS II on the Altius Network

Aetna DC Bronze, Silver and Gold HMO

Aetna DC Bronze, Silver and Gold HNOnly

Aetna DC Bronze, Silver and Gold OAMC

Aetna Health Network Only (Open Access)

Aetna Health Network Only (Open Access) on the Altius Network

Aetna Health Network Option (Open Access)

Aetna Health Network Option (Open Access) on the Altius Network

Aetna HealthFund Aetna Health Network Only (Open Access)

Aetna HealthFund Aetna Health Network Option (Open Access)

Aetna HealthFund HMO (available in CA only)

Aetna Leap Basic - Banner

Aetna MD Bronze, Silver and Gold HMO

Aetna MD Bronze, Silver and Gold OAMC

Aetna Medicare Elite Plan (HMO)

Aetna Medicare Open (Private Fee-for-Service)

Aetna Medicare Plan (HMO)

Aetna Medicare Plan (Open Access HMO)

Aetna Medicare Plan (PPO)

Aetna Medicare Premier Plan (PPO)

Aetna Medicare Value Plan (HMO)

Aetna Open Access Elect Choice EPO (Aetna Health Fund)

Aetna Open Access Elect Choice with RX

Aetna Open Access Managed Choice POS (Aetna Health Fund)

Aetna Premier Care Network

Aetna Select (Open Access)

Aetna Select (Open Access) on the Altius Network

Aetna Value Network HMO (available in CA and NV only)

Aetna Value Performance Network

Aetna Workers' Comp Access

Aexcel Aetna Select (Open Access)

Aexcel Choice POS II (Aetna HealthFund)

Aexcel Elect Choice EPO (Open Access)

Aexcel Managed Choice POS

Aexcel Managed Choice POS (Open Access)

Aexcel Open Access Aetna Select (Aetna HealthFund)

Aexcel Open Access Elect Choice (Aetna HealthFund)

Aexcel Open Access Managed Choice POS (HealthFund)

Aexcel PPO (Aetna HealthFund)

Aexcel Plus Aetna Select (Open Access)

Aexcel Plus Choice POS II

Aexcel Plus Choice POS II (Aetna HealthFund)

Aexcel Plus Elect Choice EPO

Aexcel Plus Elect Choice EPO (Open Access)

Aexcel Plus Managed Choice POS

Aexcel Plus Managed Choice POS (Open Access)

Aexcel Plus Open Access Aetna Select (Aetna HealthFund)

Aexcel Plus Open Access Elect Choice (Aetna HealthFund)

Aexcel Plus Open Access Managed Choice POS (HealthFund)

Aexcel Plus PPO (Aetna HealthFund)

Behavioral Health Program

CA Aetna Whole Health - Hill Physicians & Mercy Medical Group

CA Aetna Whole Health - PrimeCare Physicians HMO

CA Aetna Whole Health - PrimeCare Physicians OAMC

CA Aetna Whole Health - SCCIPA

CA Medicare HMO Orange/San Bernadino/Losa Angeled CA Prime Plan

CO Aetna Whole Health - Colorado Front Range

CO Medicare HMO Denver CO Prime Plan

CO Medicare PPO Denver CO Prime Plan

CT Aetna Whole Health - Connecticut Preferred Health Network

CT Aetna Whole Health PHN Bronze $15 Copay PD

CT Aetna Whole Health PHN Gold $0 Copay PD

CT Aetna Whole Health PHN Silver $10 Copay PD

CT Bronze Deductible Only HSA PD

CT Silver $10 Copay 2750 PD

DE Bronze $20 Copay HNOnly PD

DE Bronze $20 Copay PPO PD

DE Bronze Ded. Only HSA HNOnly PD

DE Bronze Ded. Only HSA PPO PD

DE Gold $5 copay HNOnly PD

DE Marketplace: Bronze $15 Copay HNOnly

DE Marketplace: Bronze Ded. Only HSA HNOnly

DE Marketplace: Bronze Ded. Only HSA PPO

DE Marketplace: Gold $10 Copay HNOnly

DE Marketplace: Gold $10 Copay PPO

DE Marketplace: Silver $10 Copay HNOnly

DE Marketplace: Silver $10 Copay PPO

DE Marketplace: Silver $5 Copay 2750 HNOnly

DE Marketplace: Silver $5 Copay 2750 PPO

DE Silver $10 Copay HNOnly PD

DE Silver $10 Copay PPO PD

DE Silver $5 Copay 2750 HNOnly PD

DE Silver $5 Copay 2750 PPO PD

Elect Choice EPO (Open Access)

Elect Choice EPO (Open Access) on the Altius Network

Employee Assistance Program

FL Bronze $20 Copay Savings Plus HMO

FL Bronze Ded. Only HSA MC

FL Bronze Ded. Only HSA Savings Plus HMO

FL Catastrophic 100% Savings Plus HMO

FL Gold $10 Copay Savings Plus HMO

FL Marketplace: Bronze $20 Copay Savings Plus HMO

FL Marketplace: Bronze Ded. Only HSA Savings Plus HMO

FL Marketplace: Catastrophic Savings Plus HMO

FL Marketplace:Gold $10 Copay Savings Plus HMO

FL Marketplace:Silver $10 Copay 2750 Savings Plus HMO

FL Marketplace:Silver $10 Copay Savings Plus HMO

FL Sarasota/Manatee Bronze $20 Copay Savings Plus HMO

FL Sarasota/Manatee Bronze Ded. Only HSA Savings Plus HMO

FL Sarasota/Manatee Catastrophic 100% Savings Plus HMO

FL Sarasota/Manatee Gold $5 Copay Savings Plus HMO

FL Sarasota/Manatee Silver $10 Copay Savings Plus HMO

FL Sarasota/Manatee Silver $5 Copay 2750 Savings Plus HMO

FL Silver $10 Copay Savings Plus HMO

FL Silver $5 Copay 2750 Savings Plus HMO

HCA Well Care (Levels 1, 2 & 3)

HMO Deductible Plan (CA members only)

IA Marketplace: Bronze HSA Eligible

IA Marketplace: Coventry $10 Gold Copay

IA Marketplace: Coventry $15 Bronze Copay

IA Marketplace: Coventry Bronze $15 Copay

IA Marketplace: Coventry Bronze $15 Copay Patient

IA Marketplace: Coventry Bronze Deductible Only HSA

IA Marketplace: Coventry Silver $10 Copay

KY Marketplace: Catastrophic

ME Aetna Whole Health - Maine

MI Bronze Ded. Only HSA PD

MI Silver $5 Copay 2750 PD

MO & KS Aetna Whole Health - MW Comm. Health Solutions

Managed Choice (Open Access)

Managed Choice (Open Access) on the Altius Network

Medicare Advantage (SWSCHP)

Medicare Connect Plus (PPO)

NC Bronze Ded. Only HSA PD

NC Marketplace: Coventry $35 Bronze Copay

NC Marketplace: Coventry Bronze $35 Copay

NC Marketplace: Coventry Bronze Ded Only HSA

NC Marketplace: Coventry Catastrophic 100%

NC Marketplace: Coventry Gold $10

NC Marketplace: Coventry Gold $5

NC Marketplace: Coventry Silver $10 Copay

NC Marketplace: Leap Basic HSA

NC Marketplace: Leap Basic Plus

NC Marketplace: Leap Catastrophic

NC Marketplace: Leap Diabetes

NC Marketplace: Leap Everyday

NC Marketplace: Leap Specialty

NC Medicare HMO Raleigh NC Prime Plan

NJ Bronze 2500 Savings Plus PD

NJ Gold 100 Savings Plus PD

NJ Medicare HMO Northern New Jersey Prime Plan

NJ Silver $25 Copay Savings Plus PD

NJ Silver $50 Copay Savings Plus PD

NV Bronze $20 Coapy AVN HMO PD

NV Silver $10 Copay AVN HMO PD

NY Bronze Ded. Only EPO NY Signature PD

NY Bronze Ded. Only EPO NY Signature PD DEP 30

NY Bronze Ded. Only EPO NY Signautre PD C/O

NY Gold $10 Copay EPO NY Signature PD C/O

NY Gold $10 Copay EPO NY Signature PD DEP 30

NY Gold $10 Copay EPO NY Signautre PD

NY Medicare PPO Onondaga NY Prime Plan

NY Platinum $5 Copay EPO NY Signature PD

NY Platinum $5 Copay EPO NY Signature PD DEP 30

NY Platinum $5 Copay EPO Signature PD C/O

NY Silver $20 Copay EPO NY Signature DEP 30

NY Silver $20 Copay EPO NY Signature PD

NY Silver $20 Copay EPO NY Signature PD C/O

National Advantage Program

New York Certified PPO (Workers' Comp)

New York Recommendation of Care PPO (Workers' Comp)

OH Aetna Whole Health - Mercy Health

Open Access Aetna Select (Aetna Health Fund)

Open Choice PPO (Aetna Health Fund)

Open Choice PPO on the Altius Network

PA Aetna Whole Health - PinnacleHealth

PA Aetna Whole Health - Valley Preferred

PA Aetna Whole Health - WellSpan

PA Bronze Ded. Only HSA HMO

PA Bronze Ded. Only HSA OAMC

PA Gold $0 Copay Savings Plus HMO

PA Marketplace: Bronze $15 Copay Savings Plus HMO

PA Marketplace: Bronze $20 Copay HMO

PA Marketplace: Bronze $20 Copay OAMC

PA Marketplace: Bronze Ded. Only HSA HMO

PA Marketplace: Bronze Ded. Only HSA OAMC

PA Marketplace: Gold $0 Copay Savings Plus HMO

PA Marketplace: Gold $5 Copay HMO

PA Marketplace: Gold $5 Copay OAMC

PA Marketplace: Silver $10 Copay HMO

PA Marketplace: Silver $10 Copay OAMC

PA Marketplace: Silver $10 Copay Savings Plus HMO

PA Marketplace: Silver $5 Copay 2500 Savings Plus HMO

PA Marketplace: Silver $5 Copay 2750 HMO

PA Marketplace: Silver $5 Copay 2750 OAMC

PA Medicare HMO Pinnacle PA Prime Plan

PA Silver $10 Copay Savings Plus HMO

PA Silver $5 Copay 2500 Savings Plus HMO

PA Silver $5 Copay 2750 HMO

PA Silver $5 Copay 2750 OAMC

PCP Referral Plan (TX only)

Peak Preference HNOnly (Open Access) on the Altius Network

Peak Preference HNOption (Open Access) on the Altius Network

SC Marketplace: Coventry $35 Bronze Copay

SC Marketplace: Coventry Bronze Ded Only HSA Eligible

SC Marketplace: Coventry Catastrophic

SC Marketplace: Coventry Gold $5 Copay

SC Marketplace: Coventry Silver $10 Copay

Savings Plus of California

Savings Plus of Chicago, IL

Savings Plus of Chicago, IL (HMO)

Savings Plus of Florida (Brevard and Tampa)

Savings Plus of Lake County, OH

Savings Plus of Metro, NY

Savings Plus of New Jersey

Savings Plus of Southeast Pennsylvania

Savings Plus of Tennessee

Springfield Premier Aetna Choice POS II

Springfield Premier Open Choice PPO

TN Aetna Whole Health - Baptist/Select Health Alliance

TN Bronze Ded. Only HSA PD

TX Aetna Whole Health - Baptist Health System & HealthTexas Medical Group

TX Aetna Whole Health - Baylor Scott & White Quality Alliance

TX Aetna Whole Health - Memorial Hermann Accountable Care Network

TX Aetna Whole Health - Memorial Hermann CAN Select

TX Aetna Whole Health - Seton Health Alliance

TX Bronze $15 Austin Community Plan

TX Bronze $15 Copay San Antonio Community Plan

TX Bronze HSA Austin Community Plan PD

TX Bronze HSA San Antonio Community Plan PD

TX Gold $10 Copay Austin Community Plan

TX Gold $10 San Antonio Community Plan

TX Marketplace: Bronze $15 Copay

TX Marketplace: Bronze $15 Copay Austin Community Plan

TX Marketplace: Bronze $15 Copay San Antonio Community Plan

TX Marketplace: Bronze HSA

TX Marketplace: Bronze HSA Austin Community Plan

TX Marketplace: Bronze HSA San Antonio Community Plan

TX Marketplace: Gold $10 Copay

TX Marketplace: Memorial Hermann Silver $5 Copay 2750

TX Marketplace: Silver $10 Copay

TX Marketplace: Silver $10 Copay Austin Community Plan

TX Marketplace: Silver $10 Copay San Antonio Community Plan

TX Medicare HMO Dallas TX Prime Plan

TX Medicare HMO San Antonio TX Prime Plan

TX Memorial Hermann Bronze $15 Copay

TX Memorial Hermann Bronze HSA PD

TX Memorial Hermann Gold $10 Copay

TX Memorial Hermann Silver $10 Copay

TX Memorial Hermann Silver $10 Copay 2750

TX Silver $10 Copay 2750 Austin Community Plan

TX Silver $10 Copay 2750 San Antonio Community Plan

TX Silver $10 Copay Austin Community Plan PD

TX Silver $10 Copay San Antonio Community Plan PD

Topeka Preferred Aetna Choice POS II

Topeka Preferred Aetna Select (Open Access)

Topeka Preferred Elect Choice EPO (Open Access)

Topeka Preferred Managed Choice (Open Access)

Topeka Preferred Open Choice PPO

Traditional Choice Indemnity

VA Aetna Whole Health - Coastal Virginia Health Partners

VA Aetna Whole Health - VA Preferred - Roanoke

VA Aetna Whole Health Bronze $30 Copay

VA Aetna Whole Health Bronze Ded. Only HSA PD

VA Aetna Whole Health Catastrophic 100% PD

VA Aetna Whole Health Gold $10 Copay

VA Aetna Whole Health Silver $10 Copay

VA Aetna Whole Health Silver $10 Copay 2750

VA Bronze Ded. Only HSA PD

VA Coastal VA HP Bronze $30 Copay

VA Coastal VA HP Bronze Ded. Only HSA PD

VA Coastal VA HP Catastrophic 100% PD

VA Coastal VA HP Gold $10 Copay

VA Coastal VA HP Silver $10 Copay

VA Coastal VA HP Silver $10 Copay 2750

VA Marketplace: Aetna Whole Health Bronze $30 Copay

VA Marketplace: Aetna Whole Health Bronze Ded. Only HSA

VA Marketplace: Aetna Whole Health Catastrophic 100%

VA Marketplace: Aetna Whole Health Gold $10 Copay

VA Marketplace: Aetna Whole Health Silver $10 Copay

VA Marketplace: Aetna Whole Health Silver $10 Copay 2750

VA Marketplace: Coastal VA HP Bronze $30 Copay

VA Marketplace: Coastal VA HP Bronze Ded. Only HSA

VA Marketplace: Coastal VA HP Catastrophic 100%

VA Marketplace: Coastal VA HP Gold $10 Copay

VA Marketplace: Coastal VA HP Silver $10 Copay

VA Marketplace: Coastal VA HP Silver $10 Copay 2750

VA Medicare HMO VA Innovation Prime Plan

Virginia Healthcare Reform Plans

Vitalidad Mexico con Aetna

Vitalidad Plus California con Aetna

WA Aetna Whole Health - Pacific Medical Centers

WA Aetna Whole Health - Providence-Swedish Health Alliance

WA Aetna Whole Health - Rainier Health Network

WA Aetna Whole Health - The Polyclinic

WI Aetna Whole Health - The Aurora Network

Wichita Preferred Aetna Choice POS II

Wichita Preferred Aetna Select (Open Access)

Wichita Preferred Elect Choice EPO

Wichita Preferred Elect Choice EPO (Open Access)

Wichita Preferred Managed Choice (Open Access)

Wichita Preferred Managed Choice POS

Wichita Preferred Open Choice PPO

zz TX Marketplace: Gold $5 Copay Austin Community Plan

CIGNA HealthCare Mid-Atlantic, Inc.- HMO

CIGNA HealthCare Seamless Network - Florida

CIGNA HealthCare Seamless Network - New England

CIGNA HealthCare Seamless Network - Tennessee

CIGNA HealthCare Seamless Network - Tennessee POS

CIGNA HealthCare of Arizona, Inc. - Phoenix IPA

CIGNA HealthCare of California, Inc. - San Francisco

CIGNA HealthCare of California, Inc. - So. CA

CIGNA HealthCare of California- Southern California Open Access

CIGNA HealthCare of Central Missouri

CIGNA HealthCare of Colorado, Inc.

CIGNA HealthCare of Colorado, inc. HMO Select

CIGNA HealthCare of Delaware, Inc. HMO

CIGNA HealthCare of Florida, Inc. - Central Florida Select

CIGNA HealthCare of Florida, Inc. - Cocoa Beach

CIGNA HealthCare of Florida, Inc. - Fort Myers

CIGNA HealthCare of Florida, Inc. - Jacksonville

CIGNA HealthCare of Florida, Inc. - Ocala

CIGNA HealthCare of Florida, Inc. - Orlando HMO

CIGNA HealthCare of Florida, Inc. - South Florida HMO

CIGNA HealthCare of Florida, Inc. - South Florida Select

CIGNA HealthCare of Florida, Inc. - Tampa

CIGNA HealthCare of Georgia HMO-HMO Seamless

CIGNA HealthCare of Georgia NET-NET POS Seamless

CIGNA HealthCare of Georgia, Inc.

CIGNA HealthCare of Georgia, Inc. Savannah

CIGNA HealthCare of Illinois, Inc.

CIGNA HealthCare of Illinois, Inc. - Chicago and Northwest Indiana

CIGNA HealthCare of Kansas/Missouri

CIGNA HealthCare of Louisiana, Inc. - Baton Rouge

CIGNA HealthCare of Louisiana, Inc. - New Orleans

CIGNA HealthCare of Louisiana, Inc. - Shreveport

CIGNA HealthCare of Louisiana, Inc. - Southwest

CIGNA HealthCare of Massachusetts, Inc.

CIGNA HealthCare of NE Missouri

CIGNA HealthCare of New York, Inc.- HMO

CIGNA HealthCare of North Carolina NET-NET POS Seamless

CIGNA HealthCare of North Carolina, Inc.

CIGNA HealthCare of North Texas HMO-HMO POS Seamless

CIGNA HealthCare of North Texas Net-Net POS Seamless

CIGNA HealthCare of Ohio, Inc. - Central Ohio

CIGNA HealthCare of Ohio, Inc. - Cincinnati

CIGNA HealthCare of Ohio, Inc. - Cleveland

CIGNA HealthCare of Oklahoma, Inc. - OK City

CIGNA HealthCare of Oklahoma, Inc. - Tulsa

CIGNA HealthCare of Pennsylvania - Philadelphia

CIGNA HealthCare of SW Missouri

CIGNA HealthCare of South Louisiana Select Seamless

CIGNA HealthCare of South Texas HMO-POS Seamless

CIGNA HealthCare of South Texas Net-Net POS Seamless

CIGNA HealthCare of St. Louis, Inc.

CIGNA HealthCare of Tennessee, Inc. - Memphis (HMO)

CIGNA HealthCare of Tennessee, Inc. - Memphis (POS)

CIGNA HealthCare of Tennessee, Inc. - Nashville

CIGNA HealthCare of Texas, Inc - Corpus Christi

CIGNA HealthCare of Texas, Inc. - Austin

CIGNA HealthCare of Texas, Inc. - Corpus Christi/Coastal

CIGNA HealthCare of Texas, Inc. - Dallas Select

CIGNA HealthCare of Texas, Inc. - El Paso

CIGNA HealthCare of Texas, Inc. - Golden Triangle

CIGNA HealthCare of Texas, Inc. - Houston

CIGNA HealthCare of Texas, Inc. - Lufkin

CIGNA HealthCare of Texas, Inc. - North Texas

CIGNA HealthCare of Texas, Inc. - San Antonio

CIGNA HealthCare of Texas, Inc. - Tyler

CIGNA HealthCare of Texas, Inc. - Waco

CIGNA HealthCare of Utah, Inc.

CIGNA HeathCare of Washington

CIGNA Managed Care Network of Alabama

CIGNA Managed Care Network of Arkansas

CIGNA Managed Care Network of Central Pennsylvania

CIGNA Managed Care Network of FL Panama City

CIGNA Managed Care Network of FL - Pensacola

CIGNA Managed Care Network of GA - Augusta

CIGNA Managed Care Network of GA - Columbus

CIGNA Managed Care Network of GA - Macon

CIGNA Managed Care Network of GA - Savannah

CIGNA Managed Care Network of IL - Mattoon

CIGNA Managed Care Network of IL - Pontiac/Dwight

CIGNA Managed Care Network of Indiana

CIGNA Managed Care Network of KS - Wichita

CIGNA Managed Care Network of KY - Glasgow

CIGNA Managed Care Network of KY - Louisville

CIGNA Managed Care Network of Knoxville, TN (PHP)

CIGNA Managed Care Network of MS - Grenada

CIGNA Managed Care Network of NV - Las Vegas

CIGNA Managed Care Network of Northern New England

CIGNA Managed Care Network of Pittsburgh Pennsylvania

CIGNA Managed Care Network of SC - Columbia

CIGNA Managed Care Network of SE Michigan

CIGNA Managed Care Network of TN - Chattanooga

CIGNA Managed Care Network of TN - Jackson

CIGNA Managed Care Network of TN - Knoxville HMO/Network

CIGNA Managed Care Network of West Virginia/SE Ohio

CIGNA Managed Care Network of Wisconsin

Choice Fund Open Access Plus

Choice Fund Open Access Plus with CareLink

Cigna Connect Flex Bronze

Cigna Connect Flex Silver

Cigna FocusIn Flex Bronze

Cigna FocusIn Flex Silver

Cigna HealthCare Of Colorado, Inc. -HMO Plus

Cigna HealthCare Of Maine, Inc -HMO

Cigna HealthCare Of New Hampshire -HMO

Cigna HealthCare Of Rhode Island, Inc -HMO

Cigna HealthCare of Connecticut, Inc- HMO

Cigna HealthCare of Maryland Access Flex Gold

Cigna HealthCare of Maryland Access HSA Bronze

Cigna HealthCare of Maryland Access HSA Silver

Cigna HealthCare of Southern New Jersey,Inc, HMO

Cigna HealthCare of Texas- Open Access POS

Cigna Healthcare of New Jersey - Northern NJ HMO

HMO - Northern California Open Access

HMO - Southern California Open Access

HMO - Southern California Value

Health Savings (all deductible levels)

Mid Atlantic Managed Care Network HMO/Network

Missouri NET-NET POS Seamless

Open Access (all deductible levels)

Open Access Plus/CareLink

Open Access Value (all deductible levels)

Sterling Medicare Supplement

Tri-State South Florida Plan (32BJ)

myCigna California Bronze

myCigna California Platinum

myCigna California Silver

myCigna Copay Assure Silver

myCigna Health Savings 6000

myCigna Health Savings 6100

Advantra Medicare Advantage HMO

Advantra Medicare Advantage POS

Advantra Medicare Advantage PPO

Community Blue Flex - PA Mountains Healthcare Region

Community Blue Premier Flex

Comprehensive Care Blue PPO

Managed Long Term Services and Supports (MLTSS)

Medically Needy / Share of Cost

North Region: TRICARE Prime

North Region: TRICARE Prime Remote (TPR)

North Region: TRICARE Reserve Select (TRS)

North Region: TRICARE Retired Reserve (TRR)

North Region: TRICARE Standard

North Region: TRICARE Young Adult Prime

North Region: TRICARE Young Adult Prime Remote

North Region: TRICARE Young Adult Standard

South Region: TRICARE Prime

South Region: TRICARE Prime Remote (TPR)

South Region: TRICARE Reserve Select (TRS)

South Region: TRICARE Retired Reserve (TRR)

South Region: TRICARE Standard

South Region: TRICARE Young Adult Prime

South Region: TRICARE Young Adult Prime Remote

South Region: TRICARE Young Adult Standard

West Region: TRICARE Prime

West Region: TRICARE Prime Remote (TPR)

West Region: TRICARE Reserve Select (TRS)

West Region: TRICARE Retired Reserve (TRR)

West Region: TRICARE Standard

West Region: TRICARE Young Adult Prime

West Region: TRICARE Young Adult Prime Remote

West Region: TRICARE Young Adult Standard

AARP Medicare Advantage HMO

AARP Medicare Advantage POS

AARP Medicare Advantage PPO

AARP Medicare Complete Choice (PPO)

AARP Medicare Complete Plan 1 (HMO)

AARP MedicareComplete Essential (HMO)

AARP MedicareComplete Mosaic (HMO)

AARP MedicareComplete Plan 2 (HMO)

AARP MedicareComplete SecureHorizons Essential (HMO)

AARP MedicareComplete SecureHorizons Plan1 (HMO)

AARP MedicareComplete SecureHorizons Plan2 (HMO)

AARP MedicareComplete SecureHorizons Plan3 (HMO)

AARP Personal Health Insurance Plan

Additional Network Benefit Plan/W500 Directory

CS VEBA Performance HMO - Network 1

CS VEBA Performance HMO - Network 2

CS VEBA Performance HMO - Network 3

CalPERS UnitedHealthcare SignatureValue Alliance

Compass Rose Health Plan FEHP FFS (PPO)

Health Insurance Marketplace or State Exchanges

Heritage Plus/Heritage EPO- Iowa, Illinois and Tennessee

Medica Choice with UnitedHealthcare Choice Plus

Neighborhood Health Partnership (NHP) - Commercial

Neighborhood Health Partnership (NHP) - Mercy Select

North Shore-LIJ Health System Plans

Optimum Choice Preferred POS

Pacificare SignatureElite Plus (TX/OK Employers Only)

UnitedHealthcare Catastrophic Compass

UnitedHealthcare Charter HMO/ Charter Balanced HMO/ Charter Plus HMO

UnitedHealthcare Charter Plus

UnitedHealthcare Charter/Charter Balanced

UnitedHealthcare Choice HMO/Choice Plus HMO

UnitedHealthcare Choice Plus

UnitedHealthcare Choice Plus with Harvard Pilgrim

UnitedHealthcare Choice with Harvard Pilgrim

UnitedHealthcare Chronic Complete (HMO SNP)

UnitedHealthcare Compass Bronze

UnitedHealthcare Compass Gold

UnitedHealthcare Compass HMO/ Compass Balanced HMO/Compass Plus HMO

UnitedHealthcare Compass Platinum

UnitedHealthcare Compass Plus

UnitedHealthcare Compass Silver

UnitedHealthcare Compass/ Compass Balanced

UnitedHealthcare Core Essential

UnitedHealthcare Core HMO/Core Essential

UnitedHealthcare Dual Advantage

UnitedHealthcare Dual Complete (HMO SNP)

UnitedHealthcare Dual Complete Preferred (HMO SNP)

UnitedHealthcare MedicareComplete Choice

UnitedHealthcare MedicareComplete Choice (Regional PPO)

UnitedHealthcare MedicareComplete Choice Essential (regional PPO)

UnitedHealthcare MedicareComplete Focus (HMO)

UnitedHealthcare MedicareDirect Essential (PFFS)

UnitedHealthcare Navigate

UnitedHealthcare Navigate Plus

UnitedHealthcare Navigate/Navigate Balanced

UnitedHealthcare Nursing Home Plan (HMO SNP)

UnitedHealthcare Nursing Home Plan (HMO-POS SNP)

UnitedHealthcare Nursing Home Plan (PPO SNP)

UnitedHealthcare Options Non-Differential PPO

UnitedHealthcare Options PPO

UnitedHealthcare Options PPO with Harvard Pilgrim

UnitedHealthcare Passport Connect Choice

UnitedHealthcare Passport Connect Choice Plus

UnitedHealthcare Passport Connect Options PPO

UnitedHealthcare Select EPO

UnitedHealthcare Select HMO

UnitedHealthcare Select Plus HMO

UnitedHealthcare Select Plus POS

UnitedHealthcare SignatureValue (HMO)

UnitedHealthcare SignatureValue (HealthCare Partners Network)

UnitedHealthcare SignatureValue (Managed Care Plan)

UnitedHealthcare SignatureValue Advantage (HMO Value Network)

UnitedHealthcare SignatureValue Alliance

UnitedHealthcare SignatureValue Flex - Network 1 (HMO)

UnitedHealthcare SignatureValue Flex - Network 2 (HMO)

UnitedHealthcare SignatureValue Flex - Network 3 (HMO)

UnitedHealthcare The Villages MedicareComplete (HMO)